In this fast developing world online Quran courses are now being in excessive demand because it is challenging for Muslim families specially staying in non-Muslim countries to get an instructor or teacher to teach the Noble Quran and Arabic and Islamic Education to their self and Kids. Mostly the Mosques are a long way from their houses.
Hiring a private Quran teacher at home is very much expensive for them and there are also time restrictions as well. So they prefer to study the Noble Quran online with online Quran tutors.
Learning Quran online is a straightforward and easy method for you and your youngsters to learn the Noble Quran at home. All you need is a personal computer/laptop or any device and fast internet connection.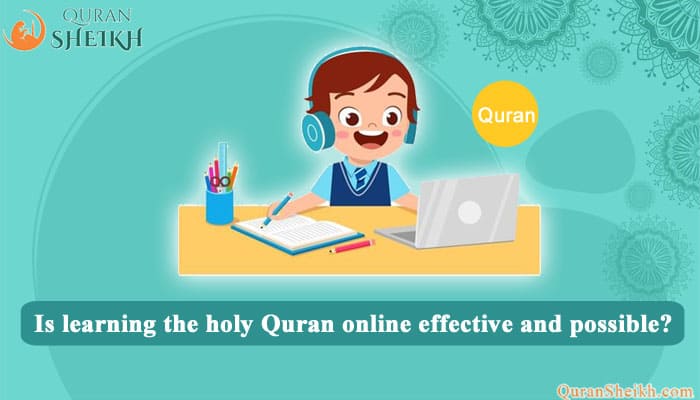 Yeah. It's very much possible to learn the Holy Quran online effectively. Reading the Holy Quran online has the same effect as reading the Quran from a book in real life.
When you have a qualified online Quran teacher you can also understand better and faster as he has the knowledge to bring the information into your mind smoothly and seamlessly.
He is also qualified and trained to provide the correct information online in various methods using many different techniques. When you study the Quran online with a qualified teacher, you have the opportunity to be accurately assessed and evaluated.
Teaching the Holy Quran to kids online enables parents to find a competent teacher from all over the world with a little effort. The online Quran teaching method is flexible enough to adjust the day and time to the schedules of parents and children.
Learning the Quran online provides a perfect opportunity for your child to fully concentrate the teacher's attention without being distracted..
The online Quran teaching for kids is so safe that there is no physical treatment between teacher and child. In addition, it is accessible for parents to supervise classes and ensure that their children are treated appropriately.
How to memorize the Noble Quran:
Why is it important to memorize the Quran for Muslims?
Muslims strongly believe that memorizing the Noble Quran will be rewarded in the life hereafter because it is an act of worship. Memorizing the Holy Quran can be difficult, especially if your mother tongue is not Arabic. Here we are mentioning some tips that may help you to memorize the Noble Quran easily and smoothly.
If you want to memorize the noble Quran, learn Noorani Qaida first as this is the basis of the Arabic language and then start memorizing from juz amma. Try to memorize the Noble Quran loudly because when your brain hears your own voice, then you will memorize the Noble Quran faster.
Keep what you have memorized and it will be very useful. Once you have the momentum, start reciting everything you memorized in salah. And try to listen to the recitation of Arabic Quranic scholars through videos.
Just create a schedule and decide how much you can memorize per day and be on time. Make good habits and discourage all bad habits. Pray to Allah that he may grant blessings of the Noble Quran to you.
And ask him to make it easy for you. After the initial struggle, things will get a lot easier and you will find new ideas and ways to memorize the Noble Quran In Sha Allah. When your memorization is completed, check it out well. Then try to recite the entire Quran in one session or 3 sessions. Check it out every day.
Learning the Quran with Tajweed rules may be a tough challenge for beginners, particularly for those whose native language is not Arabic. Yet, Tajweed is important to recite the Noble Quran effectively.
It allows us to pronounce every phrase and every letter of the Holy Quran effectively with its suitable access and go out points.
The primary Benefit of learning the tajweed rules is to avoid mispronunciation of the Glorious Quran when we are reading. Indeed, this significance became quite illustrated while the Arabs combined with non-Arabs after the spreading of Islam. Thus, the Muslims feared that the Arab tongue might turn out to be corrupted with this intermixing.
Learning Quran with tajweed rules is likewise necessary to apprehend the Holy Quran.
It teaches us the way to pronounce Arabic alphabets precisely the manner that they have to be said.
Any little mistake in pronouncing the phrases of Allah (SWT) may give a completely incorrect pronunciation which will change the meaning of the Quranic verses and that is a severe Sin.
Due to the significance of getting to know Quran with Tajweed for each Muslims, the Quran Sheikh Institute is online Quran academy presenting tajweed classes, Quran recitation, Quran Memorization.
Book a free trial now. If you are looking for teach Quran so you can join with Quran teacher who graduated from Al-Azhar University to give you an Ijazah (permission) to teach the book of Allah, then you can join Quran lessons and teach Quran correctly In Sha Allah.