Memorizing the Quran
Memorizing Qur'an does have its benefits. Obviously, over time memorization comes a little easier than before memorizing Qur'an. Additionally, it helps you become more determined and more focused.
Memorizing Qur'an is not an easy thing, you must be determined to make it happen and your perseverance strengthens that determination. Also, while memorizing it is easy to get distracted, and keeping at it helps you become more focused.
All these benefits can help you with anything you can do in life. This is nothing one can prove; this is more faith-based but I think memorizing Qur'an and reciting brings Barakat (blessings) into your life and makes it easier.
To memorize the Quran, you don't necessarily have to speak/understand Arabic. If you know how to read, considering the grammar (which is a must) then, you are all set.
A memorizer of the Quran should read the Quran a lot and review any verses he's memorized for keeping them in mind. Throughout so much reviewing and reading he will discover relationships among verses of the Quran.
Some verses are general whereas other verses explain them. So, after reviewing a lot he will find the Quran as one word that includes some letters, and they are related to each other.
Join thousands of Muslim Families who love learning Quran, Arabic and Islamic Studies from the comfort of their Homes.
Tips for Memorizing Quran:
Memorizing the Quran can be a challenging but rewarding task for Muslims. The Quran is the central religious text of Islam and is widely considered to be the word of God as revealed to the Prophet Muhammad.
Memorizing the Quran is an important part of the Islamic faith, as it allows believers to internalize the teachings of the religion and to recite the sacred text during prayers and other rituals.
Here are some tips to help you memorize the Quran more effectively:
01- Commit
Make a sincere commitment to memorize the Quran and set specific goals for yourself. This will help you stay motivated and on track.
02- Set a goal
Setting a goal for how much of the Quran you want to memorize can help you stay motivated and focused. You might want to start by memorizing a few chapters or surahs at a time, and gradually work your way up to memorizing larger portions of the text.
03- Practice regularly
Consistency is key when it comes to memorizing anything, and the Quran is no exception. Make a schedule for yourself and try to practice for at least a few minutes each day.
04- Use mnemonic devices
Mnemonic devices are techniques that help you remember information by associating it with something else. For example, you might use a rhyme or acronym to help you remember a particular verse or passage.
05- Review what you have learned
Reviewing what you have already memorized is important to help solidify it in your memory. Try to review each day's material at least once before moving on to new material.
06- Review regularly
Regular review is crucial for memorization. Set aside time each day to review what you have already memorized. This will help to reinforce the information in your memory and make it easier to recall.
07- Get a tutor or study with a group
Having someone to guide you through the memorization process can be extremely helpful. A tutor can provide you with personalized feedback and help you stay on track while studying with a group can provide a sense of accountability and support.
08- Use audio recordings
Listening to the Quran being recited can be a helpful aid in memorization. You can find audio recordings of the Quran online or on CDs.
09- Practice with a partner
Find a study partner or group to work with. This can provide motivation and accountability, as well as a chance to test each other on your memorization.
10- Use visual aids
Some people find it helpful to use visual aids, such as flashcards or diagrams, to help them memorize the Quran.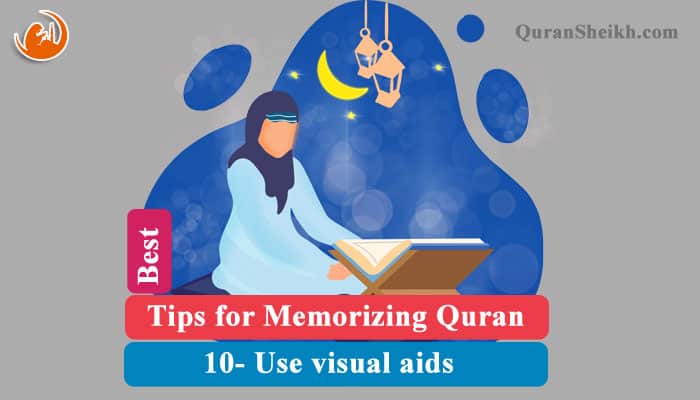 11- Take breaks
It's important to give your brain time to rest and process the information you are learning. Take breaks and allow yourself time to relax and recharge.
12- Seek help when needed
If you are having difficulty with a particular passage or are feeling overwhelmed, don't be afraid to seek help. You can ask a tutor or mentor for guidance or seek the help of a knowledgeable friend or family member.
13- Persevere
Memorizing the Quran is not always easy, and it may take time and effort to achieve your goal. But with dedication and perseverance, you can succeed in memorizing this sacred text and deepening your connection to your faith.
Advice to memorize the Quran with Quran Sheikh Institute:
Memorizing Quran is a great blessing for a believer. However, it is not a good idea to jump into the ocean without safety measures.
It is a gigantic task that needs a lot of effort, time, persistence, revision, etc.
It is important to make sure that your recitation is perfect, before starting memorization. Once memorized wrong, it becomes very hard to fix it.
That's why it is recommended to consult someone at every step of memorizing the Quran. It will enable you to get the sweet fruit of your hard work.
Quran Sheikh Institute offers several courses like the Noorani Qaida course, Quran tajwid course, Quran recitation course, Quran memorization and Ijazah course, and Islamic studies course.
Conclusion
Memorizing the Quran is an important and meaningful task for Muslims, as it allows them to internalize the teachings of the religion and to recite the sacred text during prayers and other rituals.
In conclusion, memorizing the Quran is a meaningful and rewarding endeavor that requires commitment, discipline, and hard work.
By setting specific goals, creating a consistent review schedule, utilizing mnemonic devices, seeking help when needed, listening to audio recordings, practicing with a partner, reflecting on the meaning of the verses, taking breaks, and persevering even when faced with challenges, you can successfully memorize this holy text.
While it may not be an easy task, the sense of accomplishment and spiritual growth that comes with memorizing the Quran make it well worth the effort.
As you embark on this journey, remember to keep your focus on your goals and seek guidance and support from others to help you stay motivated and on track. With dedication and persistence, you can achieve the goal of memorizing the Quran and gain a deeper understanding and appreciation of its teachings.