Quran Tutor Online: In today's digital world, learning the Quran online has become more accessible than ever. Through the assistance of contemporary advancements, individuals who follow Islam globally have the ability to conveniently gain knowledge from Quranic teachings. Learning how to read the Quran through an online tutor has become increasingly prevalent in recent years.
An online Quran tutor can provide students with a personalized learning experience and help them advance their Quranic studies. The advantages of online Quran learning will be examined in this piece, including tips for finding the perfect tutor, preparing for digital lessons, techniques for effective tutoring, and how it can enhance your Quranic studies.
Join thousands of Muslim Families who love learning Quran, Arabic and Islamic Studies from the comfort of their Homes.
The Benefits of Learning Quran Online
Convenience and Flexibility
Accessing Quran lessons online enables students to learn from anywhere and anytime, making it a convenient option for those living far from mosques or Islamic centers or who have busy schedules.
Customized Learning
Online Quran tutors can provide a personalized learning experience tailored to the student's needs. This includes individualized attention, lesson plans, and progress tracking.
More Accessible Learning
Online Quran learning has made Quran education more accessible to Muslims living in remote areas or non-Muslim countries. It is noteworthy that the presence of established Islamic institutions is mitigating the gap between Muslims who have limited access to religious education and those residing in countries with well-equipped Islamic schools.
Finding the Right Quran Tutor Online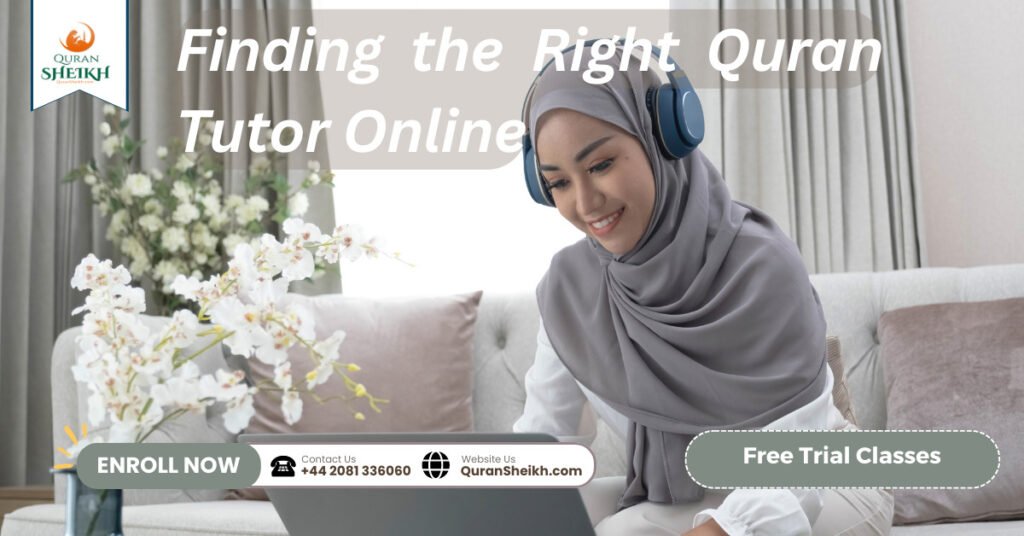 Assessing the Tutor's Qualification
When looking for a Quran tutor online, it's essential to check their qualifications, background, and teaching experience. Look for certified and experienced Quran tutors who have a deep understanding of Islamic principles and values.
Reading Reviews and Recommendations
Reading reviews and recommendations from other students who have learned from the same tutor can provide insight into their teaching style, personality, and overall effectiveness. This can help the student make an informed decision when choosing a Quran tutor online.
Interviewing Potential Tutors
Conducting an interview with potential Quran tutors online can help the student determine their teaching style, availability, and ability to meet their individual needs.
Quran Memorization Course Online with an Arab teacher with 30% Off
How to Prepare for Quran Lessons Online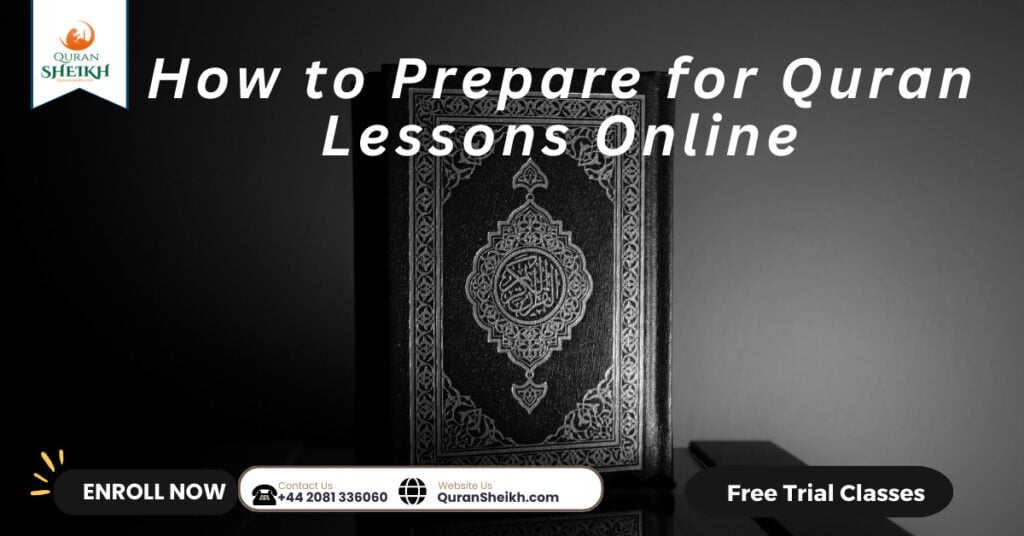 Setting-up Your Learning Environment
It's essential to ensure that the place you're going to learn Quran online is free from distractions. This means finding a quiet place to study where you can focus on your lessons and avoid interruptions.
Gathering the Necessary Learning Materials
Preparing the required books, notes, and devices before starting Quran lessons online can help ensure a smooth and efficient learning experience. Access to a dependable internet connection, a laptop or tablet, and any mandatory software or applications are all necessities included in this.
Creating a Learning Schedule
Setting a regular time for Quran lessons online can help the student establish a routine and stay motivated. This should be a time that suits their lifestyle, and they are less likely to have other commitments or distractions.
Quran Tutoring Techniques for Online Learning
Using Technology to Enhance Learning
Online Quran tutors can use technology to enhance the learning experience. This includes using audio and video conferencing, sharing screens, and interactive whiteboards to facilitate learning.
Engaging Quranic Learning Activities
Engaging Quranic learning activities, such as quizzes, games, and discussions, can help make Quran lessons online more fun and interactive. This can help the student stay motivated and retain information better.
Offering Encouragement and Support
Online Quran tutors can motivate students to learn by providing encouragement and support. This includes positive feedback, constructive criticism, and emotional support when the student faces challenges.
Competitions and Memorization
Online Quran tutoring is perfect for students who want to prepare for competitions and memorize Quranic passages.
Finding a Qualified Quran Tutor Online
When finding a qualified Quran tutor online, it's important to look for someone who has experience teaching Quranic concepts and can provide personalized instruction that suits your learning style.
In conclusion, learning Quran online with a qualified Quran tutor is an excellent way to gain knowledge of the Quranic teachings. By following the tips outlined in this article, you can find the right Quran tutor online and create a beneficial learning environment.
Remember that learning Quran online is not only convenient but also a rewarding experience that can help you establish a strong foundation in the Quranic language. A committed attitude and a proper strategy can enhance your Quranic education and provide you with a profound comprehension of the Quran.
How to memorize Quran for busy people?
Memorizing the Quran is a noble goal, but it can be daunting for busy people. Here are a few tips to help you achieve your goal:
Start small. Don't try to memorize too much at once. Set a realistic goal for yourself, such as memorizing one ayah per day or one surah per month.
Be consistent. Even if you can only spare a few minutes each day, it's important to be consistent with your memorization.
Use a variety of methods. There are many different ways to memorize the Quran. Experiment with different methods to find what works best for you.
Find a memorization partner. Having someone to help you stay motivated and accountable can be invaluable.
Don't be afraid to ask for help. There are many resources available to help you memorize the Quran, including online courses, apps, and Quran memorization circles.
Here are a few additional tips that may be helpful for busy people:
Memorize on your commute. If you have a long commute, use that time to listen to Quran recitations or to recite the verses you're memorizing.
Memorize while you're doing chores. You can recite the verses you're memorizing while you're washing dishes, folding laundry, or taking a walk.
Memorize before bed. Just before you go to sleep, recite the verses you're memorizing.
Remember, memorizing the Quran is a journey, not a destination. Be patient with yourself and don't give up. With consistent effort, you can achieve your goal.
How do I find a good Quran teacher?
Finding a good Quran teacher can be a daunting task, but it's worth it to invest in someone who can help you learn the Quran correctly and with understanding. Here are a few tips:
Ask around. Talk to your local imam, friends, family, and other Muslims you know to see if they have any recommendations.
Look for a teacher with experience and qualifications. Look for someone who has a good understanding of the Quran, tajweed (Quranic recitation rules), and Islamic theology.
Request a trial lesson. This will give you a chance to meet the teacher and see if they're a good fit for you.
Pay attention to your gut feeling. If you feel comfortable with the teacher and their teaching style, then that's a good sign.
Here are some additional factors to consider when choosing a Quran teacher:
Teaching style: Do you prefer a traditional or more modern approach?
Availability: Are they available to teach at a time that works for you?
Cost: How much do they charge?
Once you've found a few potential teachers, schedule a trial lesson with each one. This will give you a chance to see who you connect with best and who can help you reach your learning goals.
Remember, it's important to find a teacher who is a good fit for you, both personally and academically. With a little research, you can find a Quran teacher who will help you grow in your faith and deepen your understanding of the Quran.
Best Quran memorization program with qualified Arab tutors and get 30% OFF, Quran classes for Kids
Quran Tutoring Online: Frequently Asked Questions
Is learning Quran online as effective as traditional learning?
Yes. Online Quran tutoring is just as effective as traditional learning, with the added benefit of being more convenient and flexible.
What are the technical requirements for Quran tutoring online?
Having a laptop or tablet, a stable internet connection, and access to a web camera are requirements for communicating effectively with your tutor.
How do I find a reliable Quran tutor online?
Research and review the qualifications, experience and availability of different Quran tutors online. You have the option to solicit advice from loved ones or peruse feedback from former pupils.
What if I have a busy schedule and can't commit to regular Quran lessons online?
Many online Quran tutoring programs offer flexible scheduling options. Consult with your instructor to determine if they can adjust their schedule to meet yours and devise a solution that benefits both of you.