Learning the Quran from home has become increasingly popular in recent years, thanks to the rise of online classes.
Online Quran classes have been very helpful for Muslim women. They can learn and recite the Quran without going outside their homes. This provides them with a secure and comfortable atmosphere.
Women can benefit from online Quran courses. In this article, we will look at the different aspects of finding the right class. We will also emphasize the importance of female Quran instructors. Finally, we will explain the inner workings of virtual lessons.
We will share testimonials from women who have taken online Quran classes. We will also discuss the future of online Quran learning for ladies.
Join thousands of Muslim Families who love learning Quran, Arabic and Islamic Studies from the comfort of their Homes.
1. Introduction to Online Quran Classes for Ladies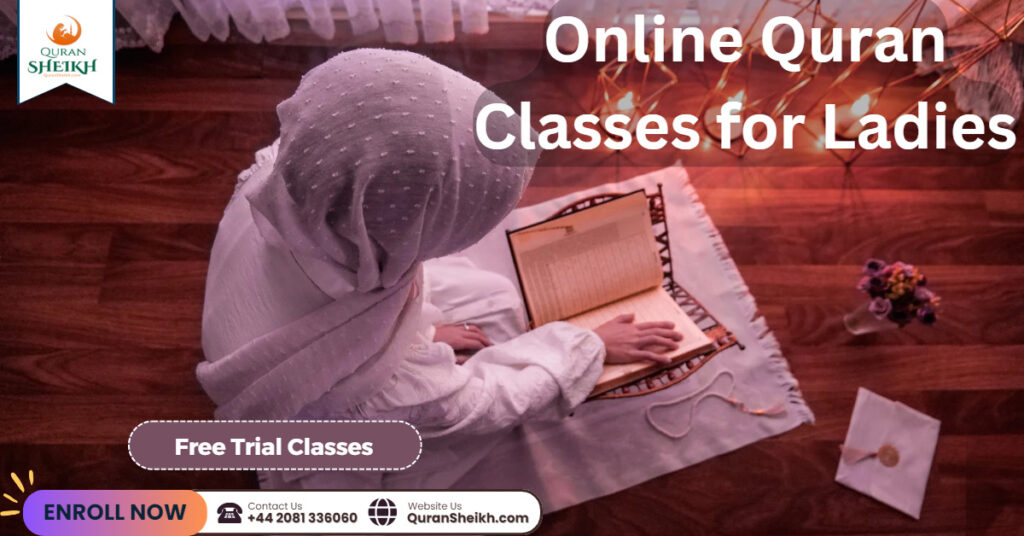 What are Online Quran Classes?
Online Quran classes provide a virtual learning environment. Learners can use this platform to gain knowledge about the Quran and Islamic teachings. They can do this without having to leave their home.
By leveraging video conferencing software, these courses enable a collaborative learning experience that allows students to communicate with teachers live.
Why are Online Quran Classes for Ladies Important?
Many Muslim women face challenges when it comes to accessing traditional Islamic education due to cultural, societal, or logistical reasons.
With online Quran classes tailored for women, the challenges faced by ladies are resolved by providing a comfortable and accessible learning environment that fosters connectivity with fellow learners.
2. The Benefits of Online Quran Classes for Ladies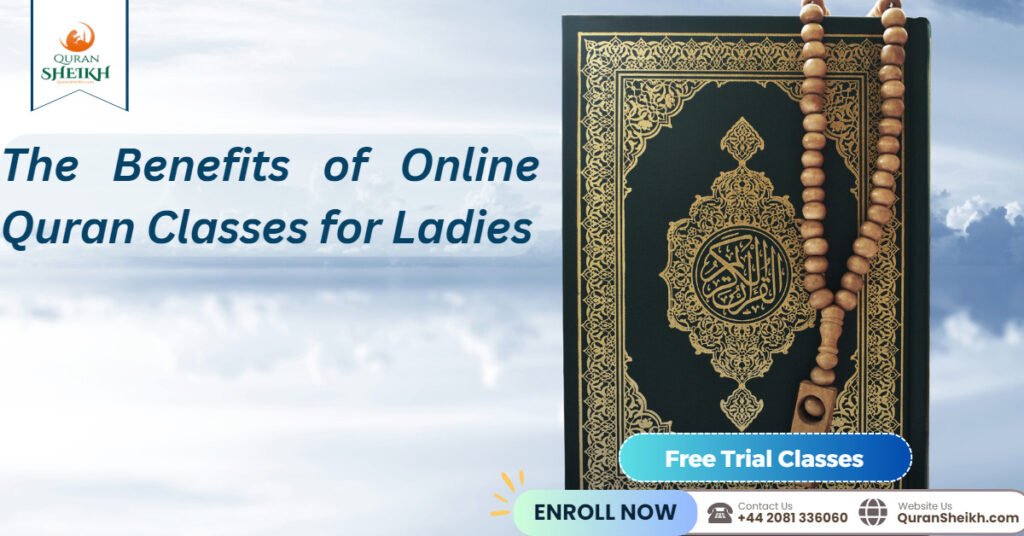 Flexibility and Convenience
The flexibility and convenience of online Quran classes enables students to tailor their class schedules to fit their needs, with the ability to choose the time, duration, and frequency of their sessions.
This makes it easier for busy mothers, working women, and students to balance their responsibilities and pursue their religious education.
Personalized Learning Experience
Online Quran classes offer a highly individualized learning experience customized to meet the unique requirements and learning preferences of every student.
By evaluating students cognitive capabilities, instructors can tailor the course to be more compelling and productive in nurturing their knowledge base.
Access to Qualified Female Quran Teachers
Online Quran classes for ladies give female students the opportunity to learn from qualified female Quran teachers.
It holds great significance for people who choose to minimize their contact with male teachers on account of cultural or religious factors.
Safe and Comfortable Learning Environment
Online Quran classes for ladies provide a safe and comfortable learning environment where women can learn without facing the inhibitions and restrictions of a traditional classroom.
Without any fear of judgement, ridicule, or harassment, students are free to inquire, engage with fellow learners and instructors through conversations and interactions.
Quran Memorization Course Online with an Arab teacher with 30% Off
3. Finding the Right Online Quran Class for Ladies
Researching Different Online Quran Programs
It is crucial to thoroughly examine various online Quran courses beforehand to select the one that suits your requirements before enrolling.
Discover courses that provide individualized instruction, certified instructors, and an extensive selection of materials to enhance your education.
Checking for Accreditation and Certification
Make sure the online Quran class you choose is accredited and certified by a reputable Islamic organization.
This ensures that the program meets the quality standards and that the certification earned is recognized by the wider community.
Reading Reviews and Testimonials
Reviews and testimonials from fellow students can offer essential perspectives on program quality, teachers instructional approach, and overall student contentment.
Seeking Advice and Recommendations
Seek advice and recommendations from friends, family, and members of the community who have taken online Quran classes before.
You can gain valuable information from their personal accounts to make an informed choice.
4. The Importance of Female Quran Teachers
Understanding the Cultural Significance
In Islamic teachings, the emphasis is on recognizing the vital role of women in society, along with acknowledging their importance as knowledgeable scholars and teachers.
Female Quran teachers help preserve this cultural significance by providing female students access to religious education, which can be limited in traditional settings.
The Role of Female Quran Teachers in Empowering Women
The role of female Quran teachers cannot be overlooked in empowering women by equipping them with knowledge and skills that help them become confident and independent members of society.
When given a supportive and inclusive learning environment, women gain the tools to become engaged and active members of their community, ultimately contributing to positive transformations in society.
The Benefits of Learning from Female Quran Teachers
Learning from female Quran teachers provides students with a unique perspective on Islamic teachings and insights into the experiences and challenges faced by Muslim women.
Ladies who teach can give counsel and guidance, facilitating learners' efforts to handle the intricacies of their belief systems and triumph over barriers.
5. How Online Quran Classes for Ladies Work
The Structure of Online Quran Classes
Online Quran classes for ladies are structured in a way that offers a comprehensive and well-rounded education in Quranic studies.
The classes follow a pre-designed curriculum that covers all aspects of the Holy Quran, including its teachings, history, and interpretation.
The curriculum's various stages grow more advanced gradually, accommodating learners at all levels.
The Technology Used in Online Quran Classes
Online Quran classes use a variety of technologies to provide seamless classes to learners. These include virtual meeting platforms like Zoom or Skype, screen sharing, digital whiteboards, and interactive Quranic software.
The advanced technology enables teachers to connect with their students live, providing an experience similar to face-to-face learning.
Students can also access recorded classes if they are unable to attend their scheduled sessions.
Expectations for Students in Online Quran Classes
Online Quran classes for ladies require students to have a computer or a smartphone with a stable internet connection.
Additionally, it is expected that students manage their time to attend all their classes, complete their assignments on time and be present regularly.
It's important for pupils to engage in classroom debates, query information, and communicate with teachers and classmates during instructional time.
6. Overcoming Challenges in Online Quran Learning for Ladies
Language and Communication Barriers
Language and communication barriers can pose a significant challenge for women who are learning the Quran online. Fluently bilingual educators make it effortless for students to engage in online Quran programs.
In addition, instructors incorporate visual aids, like pictures and clips, to assist pupils in grasping concepts more effectively.
Time Management and Scheduling
Time management and scheduling can be challenging for women who have work or family commitments. However, online Quran classes offer flexible scheduling that can accommodate learners' busy schedules.
Additionally, students can access recorded classes if they miss a session, allowing them to learn at their own pace.
Technical Difficulties
Technical difficulties, such as internet connectivity issues or software glitches, can arise during online Quran classes.
However, online Quran classes have technical support teams that can help students troubleshoot issues and offer solutions so that students can continue their classes smoothly.
7. Testimonials from Women Who Have Taken Online Quran Classes
Personal Experiences and Success Stories
Online Quran classes for ladies have helped many women learn the Quran while balancing work and family commitments.
Numerous pupils have recounted their triumph tales, elaborating on how virtual Quran lectures have enabled them to grasp subjects at their individual pace and granted a feeling of kinship.
Some have even praised their online Quran teachers, saying that they were patient, kind, and knowledgeable.
8. Conclusion: The Future of Online Quran Classes for Ladies
Trends and Predictions for Online Quran Learning
Online Quran classes for ladies are becoming increasingly popular as more women seek to learn the Quran in a safe and comfortable environment.
The trend is set to continue, with more women opting for online Quran classes given the convenience they offer.
The Role of Online Quran Classes in Empowering Women
Online Quran classes have empowered many women to learn about the Quran and its teachings. Women have been presented with the chance to connect with others who share similar interests and create a feeling of togetherness.
Online Quran classes offer women the added benefit of being able to learn at their own speed, thereby gaining the ability to manage work and family obligations while pursuing their educational goals.
In conclusion, online Quran classes for ladies offer numerous benefits and are an ideal option for Muslim women seeking to learn and recite the Quran.
Online Quran classes provide women with a personalized and convenient learning experience, which is why it's not surprising that more and more women are opting for this flexible mode of education.
The emergence of technology is set to revolutionize how Muslim women connect with their faith, with online Quran classes poised to take a leading role in empowering them.
Best Quran memorization program with qualified Arab tutors and get 30% OFF, Quran classes for Kids
FAQ
Are online Quran classes for ladies as effective as in-person classes?
Yes, online Quran classes for ladies can be just as effective as in-person classes. Students have the freedom to learn at their own pace thanks to the personalized learning experiences provided by online classes.
What if I feel uncomfortable learning from a male Quran teacher?
Many online Quran classes for ladies offer the option to learn from female Quran teachers.Women who have reservations about being taught by male teachers can feel assured of a protected and pleasant learning atmosphere.
What kind of technology do I need for online Quran classes?
For online Quran classes, it is necessary to have either a computer or a mobile device with a stable internet connection. Some online classes may require additional software or applications, such as video conferencing software like Zoom.
Do online Quran classes for ladies offer the same level of accreditation as in-person classes?
Yes, many online Quran classes for ladies offer accreditation and certification upon completion of the course. Before enrolling, research the program's accreditation and certification to ensure it can meet your needs.