Online Hifz, or memorization of the Quran, is a growing trend in the Islamic education landscape. The progress of technology has made it simpler and more available for Muslims globally to achieve the title of Hafiz, indicating Quranic memorization.
However, online Hifz programs come with their own set of advantages and challenges. In this article, we will explore the world of online Hifz, its benefits and limitations, and provide tips for success.
We will also compare online Hifz with traditional Hifz programs and discuss the role of technology in this evolving learning method.
Join thousands of Muslim Families who love learning Quran, Arabic and Islamic Studies from the comfort of their Homes.
Introduction to Online Hifz
To learn the Quran thoroughly, one must enroll in effective Islamic education, yet discovering proficient instructors and curricula can pose a challenge. In recent years, online hifz programs have emerged as a convenient and affordable solution for many students.
In this article, we'll explore the benefits and challenges of online hifz and provide tips for choosing the right program.
What is Hifz?
Hifz is the memorization of the Quran, and it is considered a highly virtuous act in Islam. Hifz is typically undertaken by children as part of their Islamic education, although adults can also learn to memorize the Quran. To master Hifz, it's crucial to understand the meanings of the Quranic words beyond just memorizing them and applying them in daily life.
The Benefits of Memorizing the Quran
Memorizing the Quran has numerous benefits, both spiritual and practical. According to popular belief, it strengthens one's bond with Allah and enhances their aptitude to comprehend and implement the Islamic teachings.
Additionally, hifz can improve one's memory and concentration, and it can be a source of comfort and guidance in times of stress or difficulty.
Online Hifz Overview
Online hifz programs offer a convenient and flexible way to memorize the Quran. The program is available to students with internet connection from any location, allowing them to create their own schedule most of the time.
Online hifz programs typically involve one-on-one sessions with a qualified teacher who guides the student through the memorization process. Some programs also offer group sessions and additional resources, such as audio recordings and quizzes.
Advantages of Online Hifz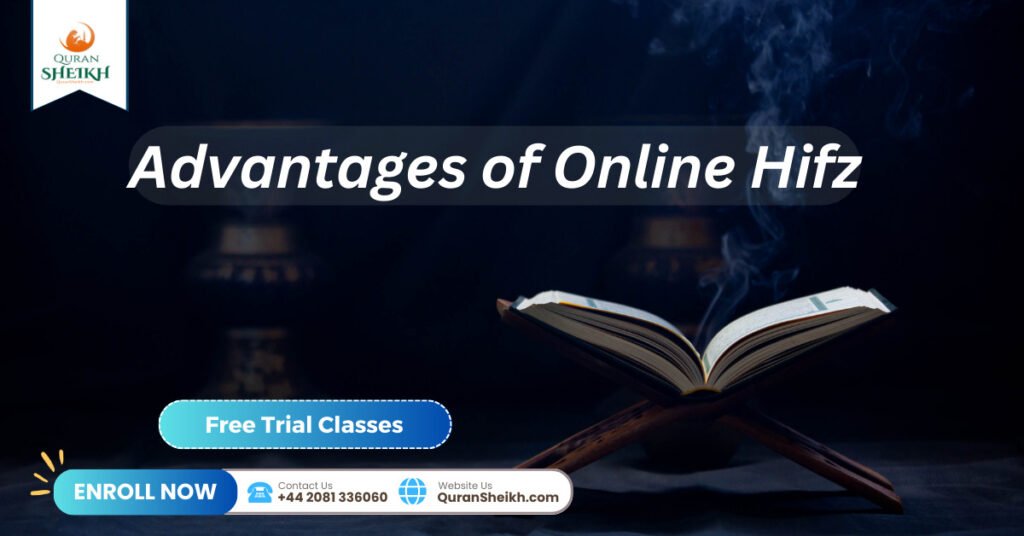 Flexibility and Convenience
One of the biggest advantages of online hifz is its flexibility and convenience. Thanks to internet connectivity, students can easily access the program and design their own schedule. This makes it easier for students to balance hifz with other commitments, such as school or work.
Access to Qualified Teachers
Online hifz programs typically offer access to qualified teachers who are trained in the art of memorizing the Quran. This ensures that students receive proper guidance and feedback throughout the memorization process.
Additionally, online hifz programs often offer teachers from different parts of the world, which means that students can learn from a wide range of perspectives and methodologies.
Affordability
Online hifz programs are often more affordable than in-person programs, as they don't require the same overhead costs. Moreover, learners could retain funds allocated for commuting and other costs associated with on-site courses.
Quran Memorization Course Online with an Arab teacher with 30% Off
Challenges of Online Hifz
Lack of In-Person Interaction
One of the biggest challenges of online hifz is the lack of in-person interaction. While online hifz programs offer one-on-one sessions with a teacher, students may miss out on the group dynamics and socialization that come with in-person classes.
Technical Difficulties
Online hifz programs rely on technology, and technical difficulties can sometimes arise. The interruption of the learning process due to this frustration can affect students and teachers alike.
Scheduling Conflicts
While online hifz programs offer flexibility, scheduling conflicts can still arise. Finding a fixed schedule to meet with their teacher could be difficult for students, or sessions may need rescheduling because of other commitments.
How to Choose the Right Online Hifz Program
Research the Program
Before choosing an online hifz program, it's important to research the program and ensure that it aligns with your goals and values. Look for programs that offer a comprehensive curriculum and qualified teachers.
Check the Qualifications of the Teachers
The success of an online hifz program depends largely on the qualifications of the teachers.
Check the credentials of the teachers and ensure that they have the necessary experience and training to guide students through the memorization process.
Read Reviews and Testimonials
It's crucial to take a look at the reviews and testimonials of past students who have completed the program. By doing this, youll be able to assess the programs pros and cons and make a well-informed choice.
The Role of Technology in Online Hifz
Technology has revolutionized the way we learn, and the field of hifz is no exception. With the advent of online hifz programs, learners can now benefit from the latest advancements in technology.
From live streaming and video conferencing to learning management systems and interactive digital resources, technology has undoubtedly played a vital role in making online hifz possible.
Live Streaming and Video Conferencing
Live streaming and video conferencing are two of the most critical technologies used in online hifz programs. These technologies allow students to attend live classes, interact with their instructors, and participate in group discussions from any location.
The learning encounter becomes more dynamic and captivating when there is real-time communication, providing prompt feedback and support to the pupils.
Learning Management Systems
Learning management systems (LMS) are software applications. They are used by online hifz programs to manage learning content, track progress, and facilitate communication. This communication is between students and instructors.
LMSs allow students to access course materials, submit assignments, take quizzes, and participate in discussion forums.
This centralized platform makes it easy for both students and instructors to monitor progress and stay on track with the learning objectives.
Interactive Digital Resources
Online hifz programs also utilize interactive digital resources such as audio and video recordings, e-books, and mobile apps.
The application of these educational resources produces a richer learning encounter by enabling students to interact with the content in novel ways and work through it at their own pace.
Interactive digital resources can also provide additional support for learners who need help with pronunciation or memorization.
Online Hifz vs Traditional Hifz Programs
Selecting either online or traditional hifz programs may be a tough choice due to the fact that both options have their benefits and downsides. Let's compare the two options.
Comparing the Learning Experience
In traditional hifz programs, students learn in a physical classroom with an instructor and other students. Although it instills a sense of community and support, this learning environment can also be quite unsettling and overpowering.
Online hifz programs, on the other hand, offer a more personalized learning experience, with students receiving one-on-one attention from their instructors. However, the lack of physical interaction may make it challenging for some learners.
Cost Comparison
Traditional hifz programs can be expensive, with costs including tuition fees, travel expenses, and accommodation. Online hifz programs, on the other hand, offer a more affordable option, as students do not need to travel or pay for accommodation.
Flexibility and Convenience Comparison
Online hifz programs offer more flexibility and convenience compared to traditional programs. Students may learn at a pace that suits them and at a time that is convenient for them, without fear of missing class because of other responsibilities.
In contrast, traditional hifz programs require students to commit to a set schedule, which may not be suitable for everyone.
Tips for Success in Online Hifz
Online hifz programs require discipline, dedication, and a few strategies to ensure success. Here are some tips to help you get started:
Set Realistic Goals
Setting realistic goals helps you stay motivated and focused. Divide your learning objectives into smaller achievable tasks, and celebrate each milestone that you accomplish.
Create a Dedicated Study Space
Designate a quiet and comfortable study space that is free from distractions. Ensure that the room is sufficiently bright and comfortable to create the ideal environment for undivided attention to your studies.
Stay Disciplined and Consistent
Online hifz programs require discipline and consistency to succeed. Set a schedule for studying, and stick to it.Make your education a top priority, and get rid of any interruptions that could impede your success.
Conclusion: The Future of Online Hifz
Online hifz is a new and evolving learning method that offers a more flexible and personalized approach to learning.
While there are still challenges that need to be addressed, such as internet connectivity and access to technology, the future of online hifz looks promising.
Online Hifz as an Evolving Learning Method
The prospect of online hifz is likely to transform our approach to education, enhancing its accessibility and affordability for all. As technology continues to evolve, we can expect to see more innovative approaches to online hifz.
Challenges and Opportunities Ahead
While the benefits of online hifz are significant, there are still challenges that need to be addressed. Online learning is often impeded by the insufficient access to technological devices and high-speed internet connection.
However, with continued investment and improvement in technology, online hifz programs can provide an opportunity for all to learn the Quran, regardless of their location or circumstances. In conclusion, online Hifz has enabled many Muslims to memorize the Quran and become Hafiz, regardless of their geographical location or other constraints.
While there are challenges associated with online learning, the advantages are numerous. As technology continues to advance, the future of online Hifz looks promising.
By following the tips provided in this article and carefully selecting a reputable online Hifz program, anyone can embark on the rewarding journey of memorizing the Quran and nurturing a deeper connection with Allah (SWT).
Best Quran memorization program with qualified Arab tutors and get 30% OFF, Quran classes for Kids
FAQs
Is online Hifz as effective as traditional Hifz programs?
Yes, with the right online program and sufficient dedication, online Hifz can be just as effective as traditional Hifz programs. The key is to select a reputable program with qualified teachers and to stay disciplined and consistent in your studies.
What are the advantages of online Hifz?
Online Hifz offers flexibility and convenience to students, as they can learn from anywhere at any time. It is often more affordable than traditional programs and provides access to qualified teachers from around the world.
What are the challenges of online Hifz?
Online learning presents a challenge in not having face-to-face engagement with educators and classmates. Technical difficulties and scheduling conflicts can also pose challenges.On the other hand, effective planning and communication can address these challenges.
How can I choose the right online Hifz program?
It is important to choose the right online Hifz program. Research the program thoroughly to make the right choice. Check the qualifications of the teachers and read reviews and testimonials from other students. This will help you decide which program is best for you.
Before enrolling, it can be useful to get in touch with the program and inquire about any concerns you may have.