A lifelong journey, for many, is the process of learning the Quran, which holds fundamental importance in Muslim belief. The Holy Quran is now easier for Muslims around the globe to access and learn, with the emergence of online classes facilitated by evolving technologies.
Selecting the right online Quran class can be overwhelming due to the plethora of options offered.
This article explores world-class platforms for learning Quran online. We discuss the benefits of learning the Quran via the internet. We also bring attention to the key factors to consider before enrolling in an online Quran course. Finally, we offer guidance on how to get the most out of online Quran classes.
Join thousands of Muslim Families who love learning Quran, Arabic and Islamic Studies from the comfort of their Homes.
1. Introduction to Quran Classes Online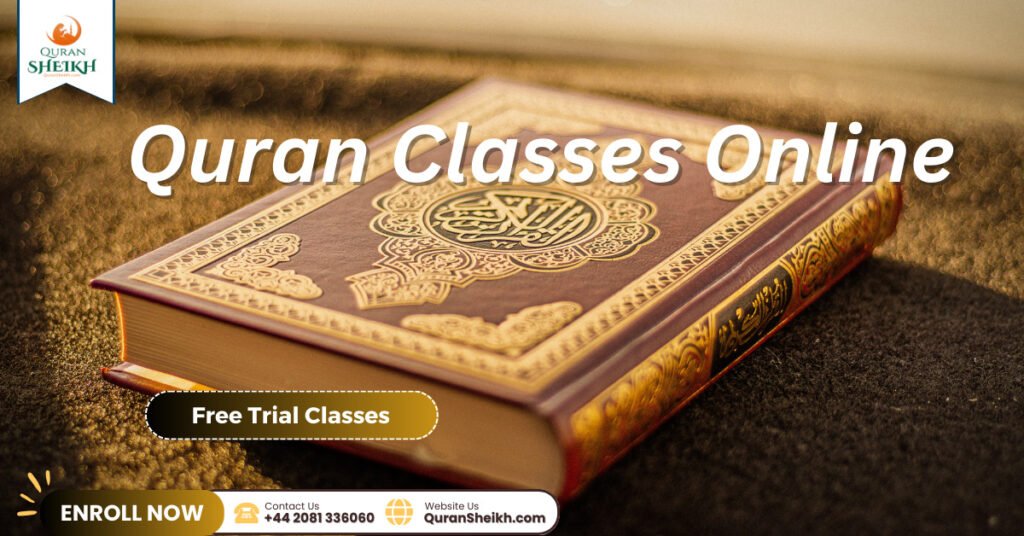 Muslims regard the pursuit of knowledge pertaining to the Quran as an essential element in their existence.Gods own word provides guidance, inspiration, and comfort to millions worldwide.
Unfortunately, many do not have the opportunity to attend a local mosque or learn from an expert Quran instructor.That's where online Quran classes come in.
Thanks to modern technology and the internet, students can now learn the Quran from their cozy homes.Discover the best platforms for learning Quran digitally, tips for selecting your ideal Quran class, and the perks of online Quran education with this informative article.
2. Top Online Quran Learning Platforms
There are many online Quran learning platforms available, each with its own set of features and benefits. Here are some of the best online Quran classes that you can consider:
– Comparison of the Best Online Quran Classes
1. Quran Sheikh Academy
2. Quran Referance
– Features and Benefits of Each Online Quran Learning Platform
Quran Sheikh Academy offers one-on-one classes with experienced teachers, flexible timings, and a free trial class. Quran Referance provides a user-friendly interface, Quranic translations, and audio recitations.
Quran Sheikh offers interactive lessons and quizzes, a progress tracker, and word-by-word translations. Quran Sheikh offers a comprehensive curriculum, female Quran tutors, and a free trial session. Quran Sheikh provides affordable rates, Quran lessons for kids and adults, and a generous discount for families.
Quran Memorization Course Online with an Arab teacher with 30% Off
3. Choosing the Right Quran Class for You
It can be difficult to choose the best online Quran class from the many available options. Before enrolling, here are a few things to consider:
– Factors to Consider When Choosing an Online Quran Class
1. Teaching methodology
2. Qualifications of the teacher
3. Course content and materials
4. Timings and scheduling
5. Student feedback and reviews
6. Price and affordability
– Types of Quran Classes Available Online
1. Basic Quran recitation
2. Tajweed and pronunciation
3. Quran memorization
4. Quran translation and interpretation
5. Quranic Arabic
4. Benefits of Learning Quran Online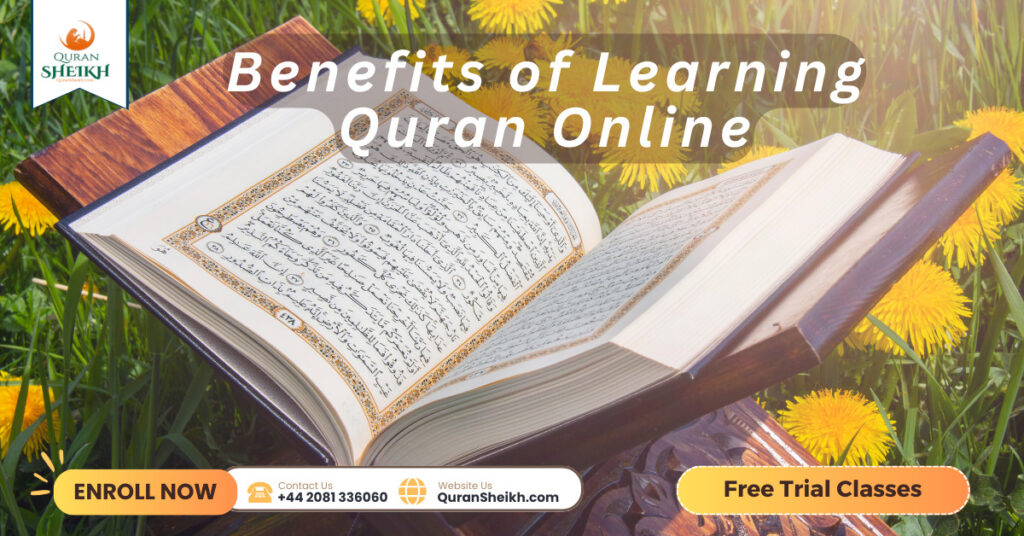 There are many benefits to learning the Quran online, including:
– Convenience of Online Quran Learning
Online Quran classes are available 24/7, which means that students can learn at their own pace and schedule. The need for commuting to a physical location has been eliminated, resulting in saved time and money.
– Access to Skilled and Qualified Quran Tutors
Online Quran learning platforms offer access to a wide range of qualified Quran teachers from all over the world. Learners are able to opt for an instructor who matches their individual learning style and demands.
– Interactive and Engaging Learning Experience
Online Quran classes use a variety of tools and methods to make learning engaging and interactive. By joining live classes, checking out video tutorials, and completing quizzes, students can monitor their progress.
In conclusion, online Quran classes offer a convenient and effective way for students to learn the Quran. Selecting the optimal online Quran class can be achieved through careful consideration of the factors outlined in this article, which will allow you to reap the many advantages of online Quran instruction.
5. Features to Look for in an Online Quran Class
In order to receive a quality education, it is important to seek out an online Quran class that possesses multiple essential characteristics. Here are three key features to consider:
– Curriculum and Learning Materials
First and foremost, it's important to consider the curriculum and learning materials offered in an online Quran class. Look for a course that covers essential topics such as Tajweed, Quranic grammar, and Arabic language. It is important to verify that the course offers superior learning resources, which encompass interactive classes, assessments and exercises.
– Tutor Qualifications and Availability
Another important factor to consider is the qualifications and availability of the Quran tutor. Seek out classes led by well-versed and accredited scholars in Quranic studies with an exceptional comprehension of Islamic teachings and the Quran.
In addition, double-check that the course furnishes excellent quality learning resources such as interactive lessons, quizzes, and worksheets.
– Flexibility and Customization Options
Finally, consider the flexibility and customization options of the online Quran class.
Investigate for sessions taught by highly qualified and verified teachers of the Quran, who hold a comprehensive comprehension of Islamic values and teachings.
In addition, ensure that the course is readily available and can be attained on multiple gadgets such as notebooks, tablets, and phones.
6. Tips for Getting the Most Out of Online Quran Classes
Its crucial to maintain a positive attitude and an open mind when studying the Quran online to maximize your learning experience. Here are three tips to help you succeed:
– Creating a Dedicated Study Space
Set up a dedicated study space in your home, free from distractions and interruptions. This will help you to stay focused and engaged during your online Quran classes, allowing you to absorb the material more effectively.
– Staying Consistent and Committed to Learning
Online Quran learning requires consistent effort for success. Make a commitment to attend all of your classes and complete all assigned coursework on time. Your learning goals can be achieved through consistent progress and tracking using this method.
– Communicating with Your Quran Tutor
One of the benefits of online Quran classes is that you have direct access to your Quran tutor. Take advantage of this by communicating regularly with your tutor and asking questions when you need clarification on a topic.
7. Conclusion: The Future of Quran Learning Online
Increasing numbers of individuals globally are opting for online Quran courses in an effort to expand their Quranic expertise. Making use of cutting-edge e-learning tools coupled with the adaptability that online lessons offer has made accessing top-notch Quranic education feasible from your residence.
Regardless of whether you're starting out or experienced, an online Quran course awaits. In conclusion, online Quran classes provide a convenient and effective way to learn and understand the Quran.
Through the appropriate online channels and strategies, Quran tutorials can turn out to be a fulfilling and revolutionary adventure that not only deepens ones faith but also enhances personal growth.
After reviewing the factors highlighted in this write-up, you can confidently opt for the most suitable online Quran course based on your needs and preferences.
Best Quran memorization program with qualified Arab tutors and get 30% OFF, Quran classes for Kids
FAQ
1. How do I choose the right online Quran class for me?
Considerations for selecting an online Quran class that meet your needs are numerous. These include the reputation and accreditation of the platform, the qualifications and availability of the tutors, the flexibility of the class schedule, and the pricing and payment options available. By comparing different online Quran classes and reading reviews and testimonials, you can make an informed decision.
2. What are the benefits of learning the Quran online?
Enrolling in online Quran learning courses comes with various advantages such as flexibility, certified tutors, personalized learning, and an immersive education experience.
Moreover, virtual Quranic courses tend to be less expensive than customary offline classes and they render more adjustable scheduling and tailored approach.
3. Can I get one-on-one attention from my Quran tutor in an online class?
Yes, most online Quran classes offer one-on-one attention from qualified and experienced Quran tutors. This allows you to receive personalized instruction and feedback, and to ask questions and discuss topics in greater depth.
Different online Quran courses provide various ways to communicate. Examples include email messaging and video conferencing. This allows learners and educators to have ample communication opportunities.
4. How can I make the most out of my online Quran classes?
Successful advancement in online Quran tutoring requires dedicating a distraction-free study area, showing perseverance to achieve learning aspirations, and ensuring regular interaction with the teacher.
Make use of the diverse and captivating attributes presented by the online Quran class website to boost your learning process; these include quizzes, multimedia resources, and games.