In today's digital world, online education has become increasingly popular, and Quran classes are no exception. Many Muslims are turning to online Quran classes as a convenient and flexible way to learn Quranic teachings.
Regardless of your skill level, there are countless Quran classes online that will cater to your individual requirements. The focus of this article lies in the quest for online Quran classes that are deemed the finest, and a guide on selecting one that suits your needs.
We will also discuss the advantages of learning the Quran online and the challenges that non-Arabic speakers may face.
Join thousands of Muslim Families who love learning Quran, Arabic and Islamic Studies from the comfort of their Homes.
Introduction to Online Quran Classes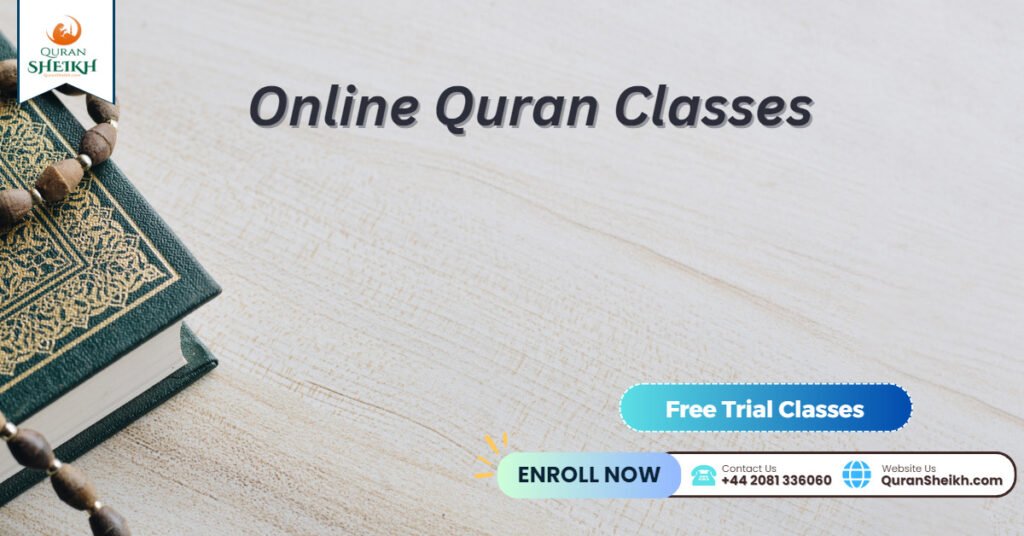 Practicing their faith involves studying the Quran and its teachings for numerous Muslims. Over the past few years, online Quran classes have seen a rise in popularity, despite traditional in-person lessons being the conventional choice.
The students can gain numerous advantages from these classes such as better access, adaptable timetables, and custom-made learning prospects. Our article delves into the benefits of taking online Quran lessons and offers a roadmap to choosing the most suitable ones.
Understanding the Advantages of Online Quran Classes
One of the key advantages of online Quran classes is the flexibility they offer. A plethora of schedule options are available to students catering to their needs- whether they have work commitments, familial responsibilities or wish to learn at their own pace.
In addition, virtual courses provide the accessibility to study from any location worldwide without the hassle of attending a face-to-face session.
Online Quran classes also provide a personalized learning experience.Individually customized lesson plans by teachers result in a higher competency rate and efficient learning process.
Furthermore, virtual platforms enable students to connect and engage with their teachers and peers, fostering a supportive community.
Finally, online Quran classes are often more affordable than traditional in-person classes.
Online classes, due to their reduced overhead costs, can provide more affordable prices and varied choices for students who are on a tight budget.
Criteria for Selecting the Best Online Quran Classes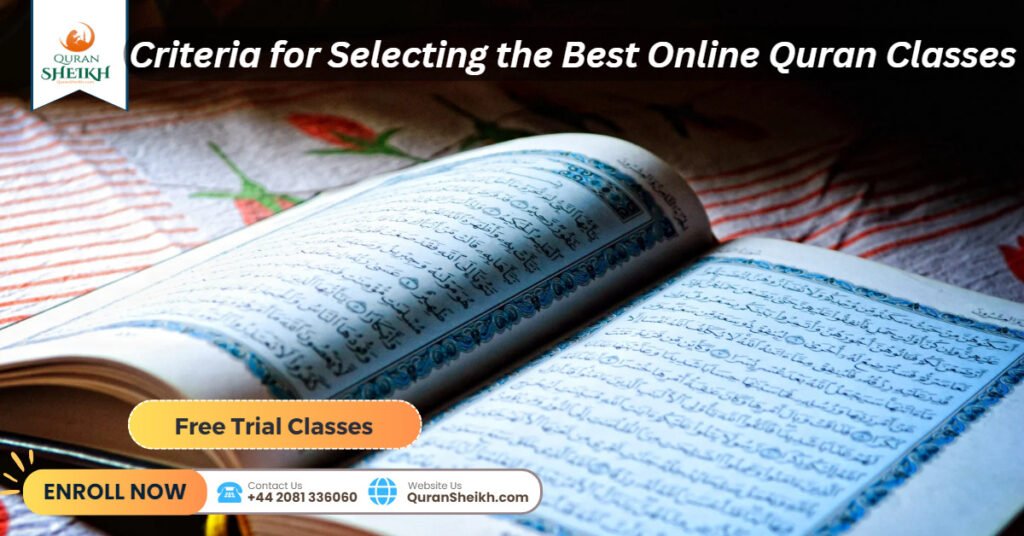 When selecting an online Quran class, there are several factors to consider. Below are some of the key criteria to keep in mind:
Expertise and Qualification of Teachers
One of the most important factors in selecting an online Quran class is the expertise and qualification of its teachers.
Look for classes taught by certified Quran teachers who have a deep understanding of Islamic teachings and can demonstrate their mastery of the Quran.
Teaching Methodology and Course Curriculum
Another important factor to consider is the teaching methodology and course curriculum. Look for classes that use proven teaching strategies and have a clear and organized curriculum that covers all aspects of Quranic learning.
Flexibility and Convenience of Class Schedules
Aforementioned, online Quran classes offer notable flexibility as one of their key advantages. Look for classes that offer a range of schedules that fit your needs and preferences. Additionally, consider the convenience of the online platform, including ease of use and access to class materials.
Quran Memorization Course Online with an Arab teacher with 30% Off
Top Online Quran Classes for Beginners
For those unfamiliar with Quranic education, there exist numerous beginner-focused virtual classes. Below are some of the best options available:
Quran Foundation Course
Beginners will find this course specially crafted, as it ensures a comprehensive grasp of Quranic learning, encompassing the study of reading, writing and proper pronunciation.
Beginner Quranic Arabic Course
This course focuses on teaching students the basics of Arabic grammar and vocabulary, which is essential for understanding the Quran.
Tajweed and Quran Recitation Course
This course teaches students the proper pronunciation and recitation of the Quran, as well as the rules of tajweed.
Advanced Online Quran Classes for Quran Memorization and Recitation
There are numerous online courses for students seeking to take their Quranic education to new heights.Below are some of the best options
Memorization of Quran
For those seeking to memorize the Quran, this curriculum is tailored to them. It uses proven memorization techniques and helps students build a strong foundation in Quranic knowledge.
Advanced Tajweed Course
This course focuses on the intricacies of tajweed, including the rules of reciting the Quran with correct pronunciation, rhythm, and intonation.
Recitation with Beautiful Voice Course
This class teaches students how to recite the Quran with a beautiful voice, incorporating the right tone, melody, and emotion into their recitation.
Most Affordable Online Quran Classes with High-Quality Education
Mastering the Quran is an indispensable aspect of the Islamic creed, and enrolling in online Quranic courses has become a favored and expedient alternative. However, finding the right online Quran classes that offer both affordability and high-quality education can be a challenge.
Comparing Prices of Online Quran Classes
It's important to compare the prices of different online Quran classes before making a decision. Many online Quran classes offer different pricing plans, such as per lesson, monthly, or yearly subscriptions. Some may also offer discounts for students who pay upfront or refer others to the classes.
Affordable Online Quran Classes with High-Quality Education
Fortunately, there are many affordable online Quran classes that offer high-quality education.
These classes typically have experienced and qualified teachers who use interactive and engaging teaching methods to make learning the Quran easy and enjoyable. The best affordable online Quran classes is Quran Sheikh Institute.
Best Online Quran Classes for Kids and Teenagers
Islam places great emphasis on acquiring knowledge of the Quran from a young age and the availability of online classes has increased accessibility for children and teenagers. However, finding online Quran classes that are interactive and engaging for kids and teenagers can be a challenge.
Interactive and Engaging Quran Classes for Kids
The best online Quran classes for kids offer interactive and engaging lessons that use visual aids, games, and quizzes to make learning the Quran fun and easy. These classes also have experienced teachers who are patient and understanding of children's learning styles.
Online Quran Classes for Teenagers
Online Quran classes for teenagers should be designed to meet the different needs and challenges that this age group faces. These classes should use modern technology and teaching methods to keep teenagers engaged and motivated to learn the Quran.
Importance of Learning Quran Online for Non-Arabic Speakers
For those who are not fluent in Arabic, understanding the Quran could pose a challenge.For individuals who are not fluent in Arabic, Quranic reading may pose a challenge.
Challenges Non-Arabic Speakers Face Learning to Read Quran
Those who do not know Arabic struggle with difficulties when it comes to comprehending the pronunciation and significance of the language utilized in the Quran.They may also struggle to find local Quran classes, especially in non-Muslim countries.
Advantages of Learning Quran Online for Non-Arabic Speakers
Online Quran classes offer non-Arabic speakers the chance to learn at their own pace and with a flexible schedule, utilizing access to experienced Arabic-speaking instructors. Numerous digital Quran courses are available, concentrating on non-Arabic speakers, for instance, Quran Academy and Quranic.
Conclusion: Making the Right Choice for Your Online Quran Classes
Choosing the right online Quran classes can be a challenge, but it's important to consider several factors before making a decision.
Factors to Consider When Choosing an Online Quran Class
Consider factors such as price, quality of education, experience and qualifications of teachers, accessibility, and engagement and interaction in the lessons. It's also important to read reviews and ask for recommendations from others who have taken the classes.
Final Thoughts
The convenience of online Quran classes has opened up opportunities for Quranic learning worldwide. Whether you're a beginner or a non-Arabic speaker, there are many affordable and high-quality online Quran classes to choose from.
By thoughtfully weighing the factors discussed, you can select the correct option for your online Quranic instruction and step forward toward comprehending and reciting the Quran.
To summarize, Quranic education can be acquired through online classes that provide flexibility and convenience with expert instructors leading the way.
By following the criteria we have outlined and considering your personal requirements, you can find the best online Quran classes that suit your needs.
With the availability of online Quran classes, everyone can benefit from the knowledge and guidance of the Quran, regardless of their location or schedule.
Best Quran memorization program with qualified Arab tutors and get 30% OFF, Quran classes for Kids
(FAQ)
Can I learn the Quran online if I am a non-Arabic speaker?
There are online methods available for those who aren't fluent in Arabic to learn the Quran. Various web-based courses on the Quran provide Arabic language lessons for new learners, aiming to assist individuals who do not speak Arabic.
Instructors may also supply translations and transliterations of Quranic passages to assist pupils in comprehending their meanings.
How long does it take to memorize the Quran through online classes?
Different factors influence the duration for online Quran memorization classes, namely, the learners commitment and the courses pace. Generally, it may take between two to three years to memorize the Quran through online classes.
What are the technical requirements for online Quran classes?
To attend online Quran classes, you need a computer or a mobile device with a stable internet connection. A headset and microphone are essential for communicating with the teacher during the class.
Some online Quran classes may require specific software or applications, such as Zoom or Skype, to attend the classes.
Can I get a certificate after completing an online Quran course?
Yes, many online Quran classes offer certificates upon completion of the course. Checking with the teacher or class provider regarding their certification process is crucial because it can differ from one class to another.